CRF450L '19 - '24
CRF450X '19 - '24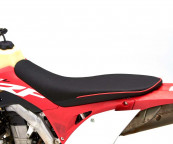 Comfort Cell foam retains resiliency and doesn't crush down like the stock foam so they can build a lower seating platform. This gives you better ground reach and balanced riding position. For the off-road enthusiast they were sure to leave enough nose to allow you to slide up the tank and get through the corners faster.
As you're seated, the bones in your posterior that take most of your body weight are roughly seven inches apart.  Your stock seat at its widest point is about 6.5". This actually makes the foam of the stock seat crush in and applies pressure to the center of your body. The Corbin model is much wider (nine and a half inches) and is built with denser, sculpted foam that supports your body weight over a greater area and equalizes pressure.
Shown here with Carbon Fiber leather seating, Asphalt vinyl sides and a Ninja Red welt for a nice custom touch. The traditional Corbin logo is stitched right into the side panel. Installation is simple with a tongue in the front and two bolts into the saddle from the sides just like stock.
The default vinyl choices are black 'carbon fiber' on top and 'asphalt' on the sides, 'no welts', black logo. You can view all of the available materials and colors through the link below. If you would like your seat built with something other than the standard choices please state specifics in the comments during check out. 
  Corbin seats are custom made to order. Allow at least 3 weeks delivery time.
Ships in 1-2 business days
$491.95