Universal fit. May require additional adjustment or modification.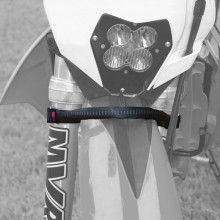 Ships in 1-2 business days
$25.00
The GCAG handles are comfortable to pull so whoever is helping will pull harder, and they are soft against your fender so you won't have any annoying bouncing, noise, or graphics damage.
GCAG dirt bike lift strap handles are constructed of 1" thin nylon webbing with flat stainless steel tri-glides for attachment. The grip section is built with 1" climb-spec tubular nylon webbing and a comfort grip handle.
Features:
Quick tool-less install
Stainless steel hardware (no metal contacts your fork tubes)
Comfort Grip Handle
Fits any bike