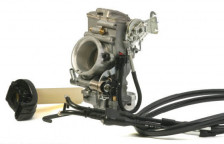 This kit replaces the stock carburetor with a true pumper carb. This genuine FCR39  (Flatslide CR) Racing Carburetor will bring out the beast in the DRZ.
Following in their tradition of high technology and performance, Keihin's carburetor design for racing is the FCR designed for downdraft engine design use. Features include a flatslide throttle operating on roller bearings with progressive linkage for smooth operation and control. Smooth bore venturi for maximum air flow. This is the ultimate racing carburetor for use on downdraft engines as found on many popular sportbikes destined for serious competition. Along with the highest level of technology available, the FCR's have proven their advantage with race wins around the world.
Kit includes a brand-new horizontal type FCR39 carburetor, adapters, throttle cables and a new throttle assembly (which is required for the new pull-push cable system).
Please contact us for availability information
$899.95