Universal fit. May require additional adjustment or modification.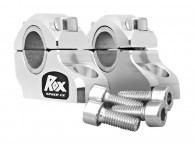 Ships in 1-2 business days
$99.95
This unique design from Rox allows you to move your bars either closer (1" up and back) or further away (1" forward and 1-1/4" up) depending on rider preference. These risers have an oblong mounting hole so that they will fit virtually any triple clamp with 8mm bolts. A set of reducers lock into the risers ensuring no slippage whether you have a 7/8" or 1-1/8" bars.
Because these are offset there may be limited clearance between the gas tank and the risers when the bars are fully turned on some models, mainly when mounted to move the bars closer.