V-Strom (DL650) '00 - '11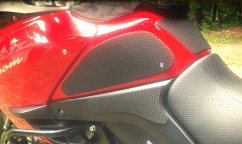 TechSpec's line of motorcycle tank grip pads will help you improve the relationship between you and your machine! The ability to squeeze the tank and feel a solid seat position is very comforting. Hard braking maneuvers no longer send you into the tank.
The Snake Skin material is their 'Premier Product' at just .125" thin. This precut kit includes five pieces: right & left tank grips, right and left frame panel pieces, and a center tank piece.
Please contact us for availability information
$79.95