V-Strom (DL650) '04 - '11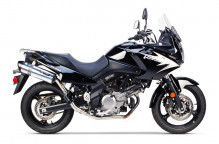 Suzuki DL650 V-Strom V.A.L.E. 2 into 1 System.
Two Brothers Racing's new system enhances the appearance of the DL650 dramatically. And the riding experience is also greatly improved by adding horsepower and torque while dropping weight off the bike.
Featuring Two Brothers Racing's exclusive V.A.L.E. attachment system, the proven TBR M-2 muffler is Aluminum.
Please contact us for availability information
$734.95