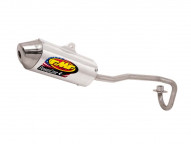 The Mini Powercore 4 is the best bang for your buck performance exhaust system out there.
Offered as a standard Mini Powercore 4, or as a Spark Arrestor Version, the Mini Powercore 4 features a Hi-Flo stainless steel core and formed end caps, an aircraft grade aluminum canister and a durable stainless steel header. It is pounds lighter than stock and you will swear the motor has been bored and stroked with the first twist of the throttle.
Delayed stock from manufacturer, please ask for availability.