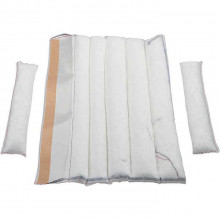 The latest in muffler packing technology. Spec 31 high performance muffler packing resists breakdown up to 1400°F, is universal, and is easy to install.
Kits come in 2 lengths - 15" and 19"
Pillows can be trimmed to length to fit different mufflers.
Includes a cap stuffer to fill packable end caps.
Please contact us for availability information
$40.95