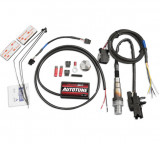 Don't have a dyno tuning center nearby? Are you more of a do it yourself type? Are you constantly changing parts on your bike?
If you answer "yes" to any or all of the questions above, then our Auto Tune kit is for you. The Dynojet Auto Tune kit is an "add on" accessory that can be used with any of the Power Commander Vs
It connects to the PCV with a single cable and requires only a ground and +12 volt connection to be made to install. If your exhaust does not already have one, a "weld in" O2 sensor bung is included
Once installed, the Auto Tune kit monitors the fuel mixture (by installing the included Wide Band O2 sensor in the exhaust). It then sends this information to the Power Commander V and automatically corrects it while you ride. Each map that we offer has preset Air/Fuel ratio values included that we find to be the best overall settings. This lets you simply plug in the unit and let it do the work.
Ships in 3-5 business days
$349.95