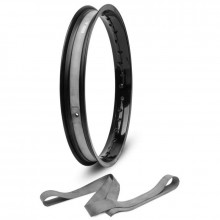 New tires and tubes deserve new rim strips! Choose the correct size for your wheels and toss-out those old cracked and broken ones.
For 19" rims, please order the 18" rim strip. These fit just fine!
Be sure to order the 2.25" wide strip ONLY if you have SuperMoto rear rim. This is a 16" strip that will fit your 17" SM rim perfectly!
You can purchase single strips or sets for your wheel sizes.
Ships in 1-2 business days
$2.95