Universal fit. May require additional adjustment or modification.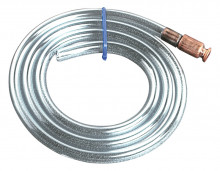 Ships in 1-2 business days
$22.95
This Super Siphon has  a (1/2 inch x 6 foot) long hose, which makes it quite easy to transfer fuel from one bike to another! Simply, shake the hose to prime it and get fuel moving.  The hose is resistant to gasoline and any other hazardous chemicals. Roll it up, stuff it in your bag and you will be very happy whenever you need it.