Universal fit. May require additional adjustment or modification.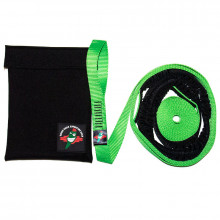 Ships in 1-2 business days
$29.99
A compact and lightweight solution to eliminate the SNAP for a safer tow. If you have ever towed a motorcycle you are familiar with the snap that comes with a traditional tow strap. GCAG made the Dynatow with a section that gives 32 inches of stretch so both riders have an easier tow.
The 26 foot total length gives you enough room to maneuver around obstacles and allows the freedom to choose better lines if you are towing in the gnar.
You can also use this as a recovery strap. You can girth hitch the loop end to the bike and throw the other end to a friend to pull. The dynamic properties of the Dynatow will help assist the pull. All of this functionality fits in a flat pouch about the size of sandwich and only weighs 12.8 oz. Throw it in your bag and be prepared.
Specifications:
1" Nylon Webbing - UV resistant and heavy duty.
Tough Tensioners - The elastics are woven inside tubular nylon webbing for protection and strength.
Hi-Viz Color - The bright green color will make this easy to see.
Sewn Loop - The towing rider can choose to use a loop around the peg or wrap it. The loop also gives options to girth hitch if needed.
1000D Cordura Storage Pouch- protects the strap against abrasion while stored and keeps it compact.
Multi Use - All good adventure gear is multi-use. Here's a few ideas.

Ridge line for a tarp.
Clothes line while camping.
Recovery strap for a friend to pull on.

Compact and Lightweight

Dimensions - 8 in x 6 in x 1 in
Weight - 12.8 oz

1,000 LB Working Load - They made it strong just like all of their products.
Please consider the following before use: Practice before you need to use this product. Always inspect your Dynatow strap before use and NEVER use a worn strap. They recommend a proper training class to learn safe methods for towing a motorcycle.