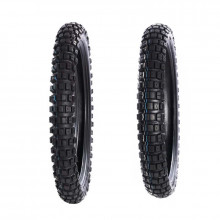 Tractionator Dual Venture from MOTOZ. Based on the popular Tractionator Adventure and Tractionator RallZ front tires, but not directional!
Off-Road performance with great on-road manners. ( 70% dirt / 30% street )
Proven construction and compound for adventure and dual-sport use.
Designed in Australia for dependable performance in a wide variety of conditions without the need to change tire pressure between off-road and on-road.
Hybrid compound with Silica for optimum grip in mud, snow, and rain.
Reversible for extended use.
NOTE: Tubes can be run in Tubeless tires, but a Tube Type tire cannot be run Tubeless.
Ships in 1-2 business days
$125.95