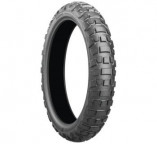 The Bridgestone AdventureCross AX41 Tires features a distinct pattern design, compound and high cross sectional area to provide enhanced performance on or off-road.
This 30% street/ 70% off-road adventure tire that complements the modern dual sport motorcycles.
These are all tubeless tires that are also OK to use with a tube on spoke wheels.
Ships in 3-5 business days
$155.95