Africa Twin (CRF1000L) '16 - '24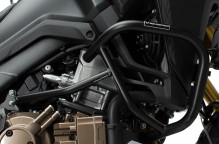 Please contact us for availability information
$312.95
Adventure bike heaven is off-road headed down a dirt road or a trail. If that is your dream, then as you know, you are going to fall. Sometime, someplace, it will happen, so be prepared! Save your bike before it happens.
SW-Motech makes some of the finest protection equipment available. The set-up for the Twin is available in a standard black powder coating or a semi-polished Stainless-Steel tubing. Both sets will protect the vital components of your motorcycle as well as you from damage incurred during a fall, slide or crash. They will preserve the frame, radiator, bodywork and other critical components from touching down with robust tubular steel. The black kit uses 27/21 mm tubing while the Stainless uses straight 22 mm tubing throughout.
Both configurations have a tight fit for great ground clearance and are designed to work seamlessly with other SW-Motech products like their Skid Plate/Engine Guard and SW-Motech Hawk light mounts. Three secure mounting points per side provide the necessary support that make these so strong. There is no drilling, cutting, welding or any other modifications required for mounting but still allows access to the oil filler, tool box and battery. Kit includes all necessary hardware and instructions and an aluminum cover to replace the OEM plastic cover at the lower mounting point on the left side.
Please Note that these Crash Bars are also compatible with the SW-Motech Skid Plate and the SW-Motech Centerstand.