Universal fit. May require additional adjustment or modification.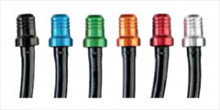 Ships in 1-2 business days
$11.95
If you're like us, you hate the long floppy vent hose hanging off the cap of your aftermarket tank. This one-way vent cap replaces the long hose with a short one only about 2" long. It allows air into your tank but prevents fuel from sloshing out. Machined from billet alloy and anodized for good looks.
  Not for stock fuel tanks!