Universal fit. May require additional adjustment or modification.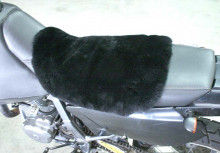 Ships in 1-2 business days
$69.95
This is the secret for being able to put in those 500 mile days. Even a good touring seat can feel a bit firm after a couple hundred miles. Sheepskin gives that little bit of 'cush' and provides superior air circulation. Velcro straps allow easy removal when you don't need it. Measures 14" wide by 19" long.