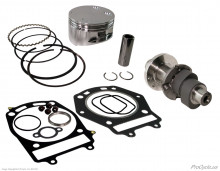 $899.95
The Complete Top End Performance Kit includes:
10.5:1 compression JE piston with rings, wrist pin and circlips (the actual measured stock compression is only 8.7:1).
Stage 2 Web Cams high performance camshaft for more power (reground from brand new OEM Suzuki camshafts).
Top end gasket set with metal base gasket.
We strongly recommend checking valve to piston clearance when installing a non-standard camshaft.