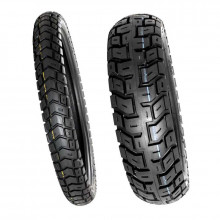 Long mileage, serious traction and smooth transition from pavement to gravel to dirt, the GPS does it all.
Reversible rear to suit the rider's needs – either 50/50 or Mostly Off-Road.
In 50/50 direction the GPS is a well behaved street-able tire with smooth cornering transition from center to cranked all the way over.
In Mostly Off-Road direction the aggressive straight line hook-up and cornering drive is engaged for better off-road traction.
Stronger carcass construction than other 50/50 adventure tires provides world class performance with a high resistance to punctures
Deeper tread than most adventure tires.
Unique Hybrid compound with Silica for long mileage and optimum grip in mud and snow.
NOTE: Tubes can be run in Tubeless (TL) tires.
Ships in 1-2 business days
$125.95