Universal fit. May require additional adjustment or modification.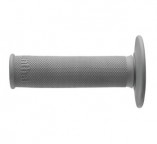 Please contact us for availability information
$16.95
Each pattern is available in three advanced synthetic rubber compounds. This means you can have the optimum combination of strength, tackiness and shock absorption to suit every riding condition and individual style. Soft grip is extremely soft, giving you a very comfortable ride, great feel and reduces the chance of blisters; however, because the grip is so soft, it wears quickly. Medium is a compromise between firm and soft. Firm grip has the same feel as a stock grip, it is very strong and has very good resistance to tearing and abrasion. Half Waffle has waffle pattern in finger area for traction and diamond pattern on palm side to reduce blisters. Full Waffle: designed after the CR Honda® grip.