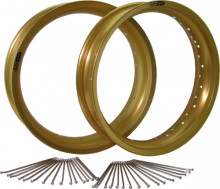 Sun rims are our favorite. They are very strong and come very round and true right out of the box. Sun rims make building a wheel enjoyable. Standard rims are silver but Sun rims are also available in black or gold. Sun rims are made in the USA.
These custom rim and spoke kits can be made to work for any bike with wire spoke wheels.  Your rim & spoke set will include Buchanan's custom heavy gauge stainless steel spokes and plated nipples. Please leave the year and model of your application in the comments section of the check out page. Also let us know which rim is front or rear. 
Would you like us to build your wheels for you? Select Lace and True from the add-on menu and send us your hubs!
 Rims and Spokes are custom made to order and cannot be canceled. Please allow 2-3 weeks for delivery.