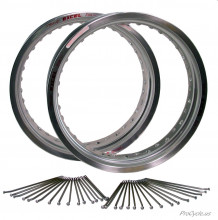 Build Your Own Supermoto Wheels. These rims are the normal supermoto sizes for full size dirt bikes. 3.5x17 front and 4.25x17 rear.
We can supply rims and spokes for almost any bike. All we need to know is the year and model of your hubs. Rims are custom drilled and spokes are made to order so allow approximately 2-3 weeks to ship.
We use high quality Excel or Sun rims and Buchanan's heavy gauge stainless steel spokes and heavy-duty nipples.
Excel or Sun 3.5x17 front rim
Excel or Sun 4.25x17 rear rim
Buchanan's stainless steel heavy gauge spokes and zinc-plated nipples
Hubs not included.
Want us to build them for you? Send us your hubs and add "Lace and True" to your order and we will lace and true your rims to your stock hubs.
 Contact us before removing your wheels as some bikes will need measurements taken.
 Rims and Spokes are custom made to order and cannot be canceled. Please allow 2-3 weeks for delivery.
 Excel Black wheel only available for 36 spoke dimpled rim.
Please contact us for availability information
$809.00