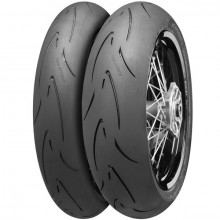 Extremely light handling with exceptional grip in corners, combined with high mileage compound. This radial tire offers great control and feedback when riding on the limit. Quick warm-up and good grip when cold thanks to a specially developed tread compound.
0° Steel belt construction on the front and rear for higher stability and great feed-back when braking into and accelerating out of curves.
One of the best street SuperMoto tires.
Tubeless and H rated (max speed of 130 mph)
Ships in 3-5 business days
$246.95