Universal fit. May require additional adjustment or modification.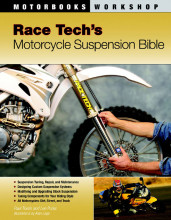 Ships in 3-5 business days
$34.95
Based on the wildly popular Race Tech Suspension Seminars taught by Paul Thede around the world, this step-by-step guide shows riders how to make their bikes handle like the pros. Thede gives the lowdown on all types of suspension, including cartridge and non-cartridge forks as well as dual-chamber and nitrogen-charged shocks.

The three forces of suspension, testing procedures, even the black arts of chassis geometry: Thede explains it all. The book provides step-by-step photos of suspension disassembly and assembly as well as a detailed troubleshooting guide for dirt, street and track.