V-Strom (DL1000) '02 - '24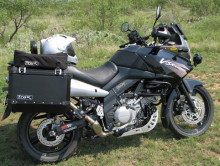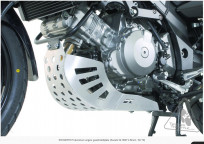 Please contact us for availability information
$290.95
Constructed of a 4mm-thick aluminum base plate and 3mm-thick side plates for heavy-duty, light-weight protection. Where the base plates and side plates overlap, it forms a riveted 7mm-thick rail for extra rigidity. Base plate includes side protectors that wrap around the engine block to provide both bottom and side protection. Available in bare aluminum or powdercoated black for an extra $13.00.
Installation of the SW-Motech skidplate requires previous installation of the SW-MOTECH crashbars, which are sold separately.
The SW-Motech skidplate is not compatible with Givi or Hepco-Becker crashbars.
The SW-Motech skidplate can be used without a centerstand, or with the SW-Motech, Suzuki or Hepco-Becker* centerstand.
 Special order item – please allow extra time for delivery.