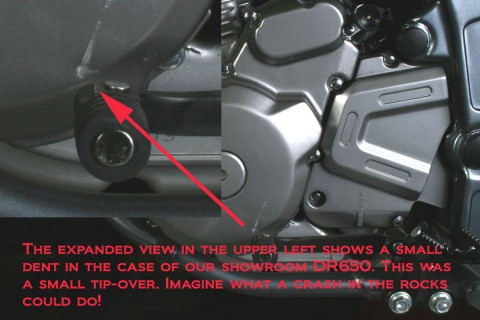 ProCycle DR650 Case Armor for Engine Cases - Installation Instructions
Here are some installation instructions for the new ProCycle Armor Plating for Engine Cases. This is a great new product that we have manufactured here locally from heavy gauge stainless steel. These case protectors may save you a long walk out of the woods someday. You bond these Armor units directly to your engine cases to help protect them from crashes and rock strikes. Or you can just use them to cover up scars and marks in your cases and make your bike pretty again! The image below shows a small dent in the case of our shop DR650 that occurred during a small tip-over, when the shifter banged into the cases. Not only does the Armor protect the case from that happening again, it covered up the blemish! Click on each of the images below to see a larger version.
Use either contact cleaner or rubbing alcohol to clean both the inside of the Armor and the outside of the engine case where you are installing the guard.
Apply a healthy dose of high-temp red RTV silicone on the mounting surface of the Armor Plate. When all spread around, the silicone should be about 1/8" thick and about 1/2" away from the edges of the Armor as it will squish out when you apply it to the case. Refer to the image below to get an idea of how to spread the silicone. We like red silicone because it is stronger and adheres much better than the standard stuff. Regular silicone will work, we just think the red stuff is stronger.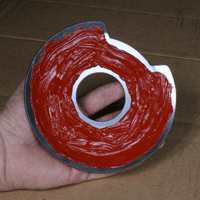 Apply the Armor to the engine case and press firmly. Any silicone that does squeeze out from under the Armor during installation should be cleaned immediately. Removing it once it has set is difficult to say the least. Once the Armor is down and you have cleaned all of the excess, then hold the Armor in place with some masking tape or the like while the silicone dries. You should leave it for 24 hours to fully cure. Once it is set, remove the tape and hit the road secure in the knowledge that you have added protection for your exposed engine cases. Below are some images of the Armor on both the right and left side cases.