Universal fit. May require additional adjustment or modification.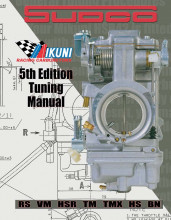 $17.95
96 page 5th Edition Sudco Mikuni Carburetor Manual featuring the complete line of Mikuni RM, VM, HSR, HS, TM, TMX and BN Carburetors and Fuel Pumps with Parts Breakdown Diagrams, available Tuning Components, Tuning and Setup information of all Mikuni Carburetors & Fuel Pumps for Dirt, Street and Personal Watercraft applications.
Great resource for the do it your self rider to get the most out your carburetor.